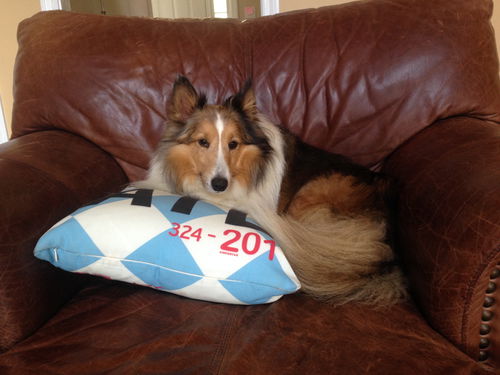 ADOPTED! No Longer Available!!! Starsky was given to animal control by his owner, so we have no history. I can say he is very comfortable in his foster home. He prefers to be on the bed or furniture. He came in with Hutch, but doesn't much care for him. He growls at him a lot, but Starsky is friendly with the other dogs. If ever a dog wanted to just be your bud, Starsky is it. He is active and will fetch a ball, and run the yard. Most of the time, though, Starsky just wants to be a mello fello and hang out with you. Starsky would be a great only dog, but is good with other dogs unless he has to protect his food. He will growl and make a lot of noise, and we were very careful to crate him when feeding around other dogs. He walks well on leash, rides well in the car, and will warn you of any danger by barking. Doorbells are dangerous. Loud noises are dangerous. Other than that, he is generally q
...read more about Starsky 1435 - ADOPTED!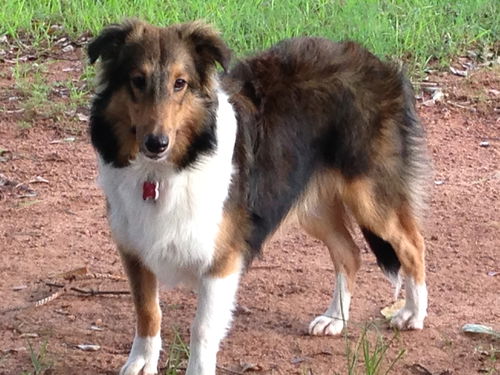 ADOPTED! No longer available Kobie has come a long way. He was given up by his owners because of many fear issues. He still jumps when a doors slammed, but mostly enjoys just being a dog. He plays with other dogs, and his foster home will miss him greatly. Kobie is still a puppy at heart. He loves to run and play with other dogs. Although he is a little shy of strangers, he seeks attention, and loves to play with toys. In fact you MUST keep toys available, or he will find something else to chew on. He is highly food motivated, and is learning manners and obedience, since he loves to jump on people. If left alone, he will explore the counters for food. Kobie is crate trained, housebroken and could stand to put on a few pounds. He is very active, and will need an active home who will give him the exercise his growing body needs. If left alone in the yard, he will be loud and bark at the many neighbor dogs. He will come when c
...read more about Kobie 1432 - Adopted!
Sheltie Rescue of Ga., Inc. is a non-profit organization, composed solely of volunteers, dedicated to saving Shetland Sheepdogs (Shelties) who have been surrendered by their owners, neglected, abused, or are strays. Established in 1994, SRGA is the oldest and most respected organization of its kind in Georgia. We have placed more than 1500 dogs into permanent homes.
All "Rescued" Shelties are immediately taken to a veterinarian to be treated for any obvious medical condition, tested for heartworms and intestinal parasites, brought current on all shots (including rabies), started on heartworm and flea preventative, spayed or neutered and placed in a loving Foster Home until a suitable permanent home can be found. "Rescued" Shelties come in all ages, colors, sizes and personalities. Rarely do we have puppies under the age of (one) 1 year old.
If you are interested in adopting, please complete our Online Application.
Your donations are welcome. Sheltie Rescue of Georiga, Inc. is 501 (c) (3).